Weather Forecast
Today: Sunny with isolated thunderstorms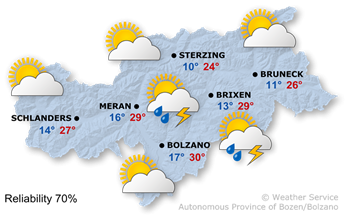 Some low clouds in the morning, then widespread sunny. In the afternoon and evening isolated thunderstorms. High temperatures between 22° and 30°.
---
Next days Weather forecasts: Summery, but not stable
Monday sun and some thunderstorms in the afternoon/evening. No significant change is expected on Tuesday, with sunshine followed by local thunderstorms in the afternoon. Wednesday sun with some thunderstorms in the second part of the day. Thursday sunny with isolated thunderstorms.