Weather Forecast
Today: Mostly sunny, colder
Sunny weather. Towards the evening more clouds moving in from the east. Föhn winds in the northern parts of the region. High temperatures between 0° and 10°.
---
Tomorrow: Very sunny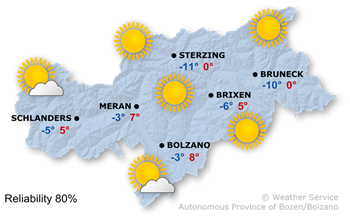 Sunny weather with mostly clear sky. Low temperatures between -14° and -2°, high values from -2° to +8°.
---
Next days Weather forecasts: Sunny winter weather
Also on Wednesday sunny conditions, clear sky. On Thursday the sunny weather continues. On Friday still high pressure conditions, at times a few cirrus clouds may pass through. Saturday partly sunny with some clouds from North.