Services at our hotel for Dolomites cycling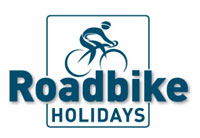 As "Roadbike Holidays" members we are the experts for your Dolomites cycling holiday!
All hotels which are members of "Roadbike Holidays" boast proven racing cycle competence and fulfil the quality and service standards required by road bikers. The high standards are ensured by TÜV Austria certified annual inspections. Many cycling activities, including winter training, preparing for the new season at the seaside, leisure tours around the lakes or marathon challenges on famous Alpine passes and all kinds of Dolomites cycling activities are possible at the various "Roadbike Holidays" hotels in all seasons."Roadbike Holidays" scores with a diversity of offers for leisure cyclists, hobby sportsmen and women and athletes. Additional offers for triathletes and clubs or the special service of an escort vehicle highlight the uniqueness of "Roadbike Holidays".

We have been approved by "Roadbike Holidays" and we offer the follow service :
Hotel equipment:
outdoor bicycle rack;
a lockable bike storage room;
drying facilities for cycling clothing;
laundry service;
workshop/repair area;
information point for cyclists with panoramic maps and updated information;
Roadbike tour on departure day (shower and luggage storage facilities).
Board:
buffet breakfast with fresh fruit and cereals;
Xenofit energy bars and drinks available from the hotel;
after bike tour snacks.
Free time and relaxation:
sauna, Turkish bath and swimming pool;
massages on request.
Assistance:
Roadbike expertise;
free maps, street maps and elevation profiles;
GPS data for tours (free downloads);
pick-up service.